For a society in which everyone can live without giving up
on their necessary outings
From April 2011, I have been working as a volunteer to provide transportation to residents who cannot move on their own, and require a visit to such places as the hospital.
I work mostly in the Ishinomaki district of Miyagi prefecture, which suffered tremendous damage from the Tsunami of The Great East Japan Earthquake.
Everyday, I transport about 70 people, approximately 20 thousand people annually, using the public welfare vehicles that were kindly donated to us.
I think that means of "transport" serves an important role to enable the residents suffering from illnesses and disabilities, who try so hard to live everyday despite being left behind by reconstruction activities, to live more like themselves.
To offer transport to people who cannot travel, is an important activity that offers a helping hand directly to those that are in need right now. However, if we only offer transportation, those who are in a difficult situation will continue to always be in a difficult situation. In reality, what is truly important is to be able to construct and strengthen a system where they can support themselves or support each other within their local community, without having to depend on transportation volunteers.
Together with other organizations, we are doing a wide variety of activities that are not only transportation. This includes, creating "transportation guides" to make it easier for people to use buses, organizing outings/events such as picnics and shopping with helpers, holding training sessions to increase the number of drivers, and giving advice for a more accessible system.
We will continue with our activity, in hopes to change the city currently called "a disaster-stricken area," to "a city where you can go wherever you want", and furthermore, to "a city you can live in forever" and "a city where you can return home feeling safe and secure."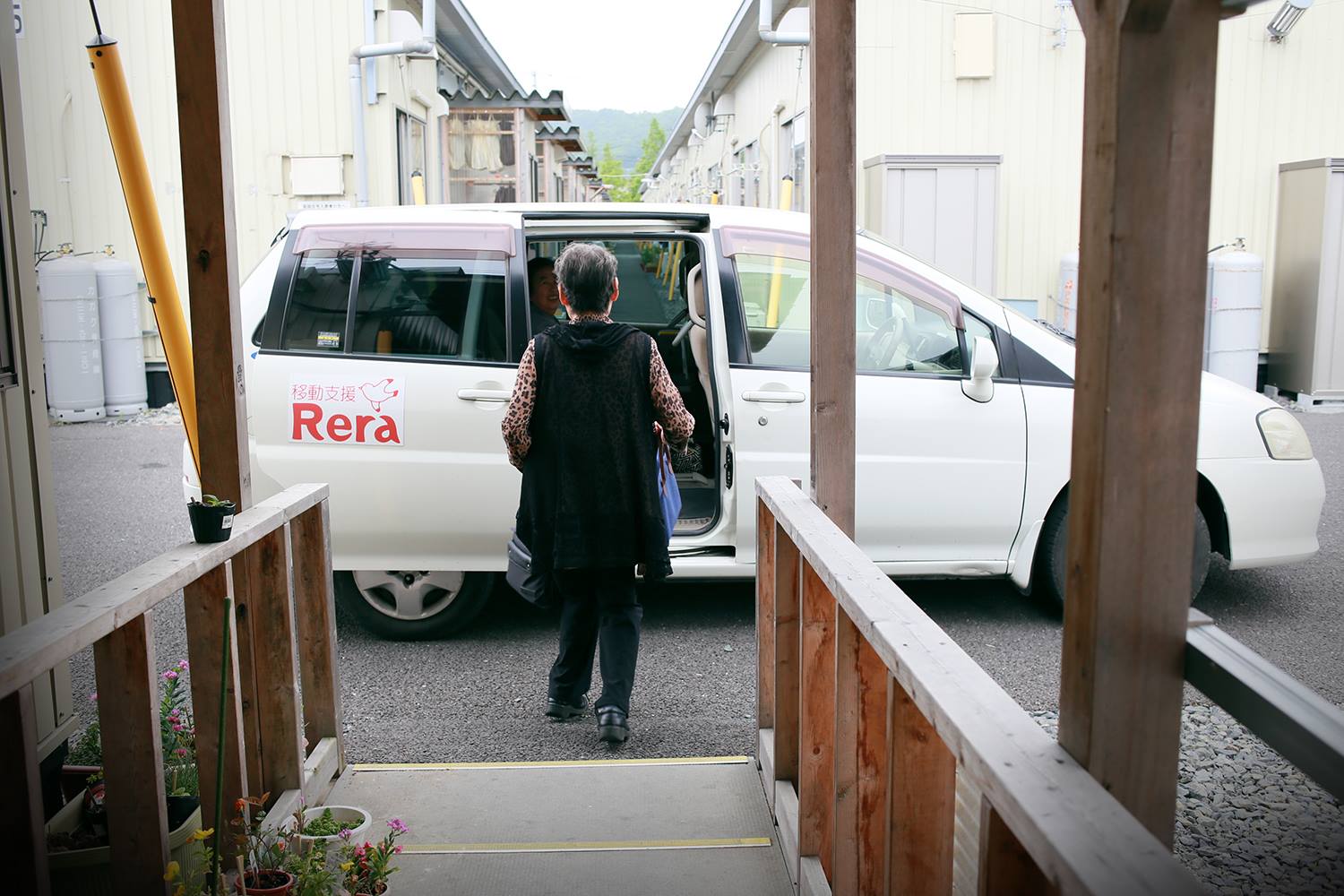 Outline
| | |
| --- | --- |
| Name | Transportation Support Services Rera |
| Representative | Hiroko MURASHIMA |
| Establishment | Feb 15th, 2013 |
| Address | (日本語) 石巻市大街道東4丁目2-10 クレンビル1号館2階 |
| Telephone | 0225-98-5667 |
| E-mail | info●npo-rera.org(●を@に直して下さい) |
| Website | http://www.npo-rera.org |
| Links | |
| 参加URL | (日本語) http://www.npo-rera.org/supporter.html |